Green environment, high loading capacity and high wear resistance
The panel is made of high -density particle board. Bottom is galvanized steel shee/aluminium sheet. Edge is 4 pcs black PVCtrim along each side of panel. Cover is ceramic tile, marble or others according to the customer's requirement. This type flooring is as same as imported floor. This product technical performance is equivalement to the imported flooring products with a high loading capacity, high-wear-resistant factor, light weight, low environmental pollution, foot feeling well, also have soundproofing, shockproof, fouling resistance, corrosion resistance, high wear resistance, effective pavement, long using life etc.
Composite anti-static floor material: particleboard, cement, inorganic board base, can choose a variety of veneer materials. Composite antistatic floor features: mature technology, good exchange performance, cheap price. Scope of application: widely used in all kinds of computer rooms, especially multimedia classroom, monitoring computer room, general office computer room, etc.

Type

Specification

Concentrated Load(N)

Impact Load(N)

Ultimate Load(N)

Untimate Load(N/m2)

Dynamic Load(N)

Fire Protection

System resistance

International

National

LB

N

KG

10

10000

FS1000

HDMc(B)

600x600x40

1000

4450

453

670

13350 

23000

4450

3560

B1

1x106Ω~1x109Ω

FS1250

HDMc(Z)

600x600x40

1250

5563

568

670

16680

33000

5560

4450

B1

FS1500

HDMc(CZ)

600x600x45

1500

6675

681

780

20025

43000

6675

5560

B1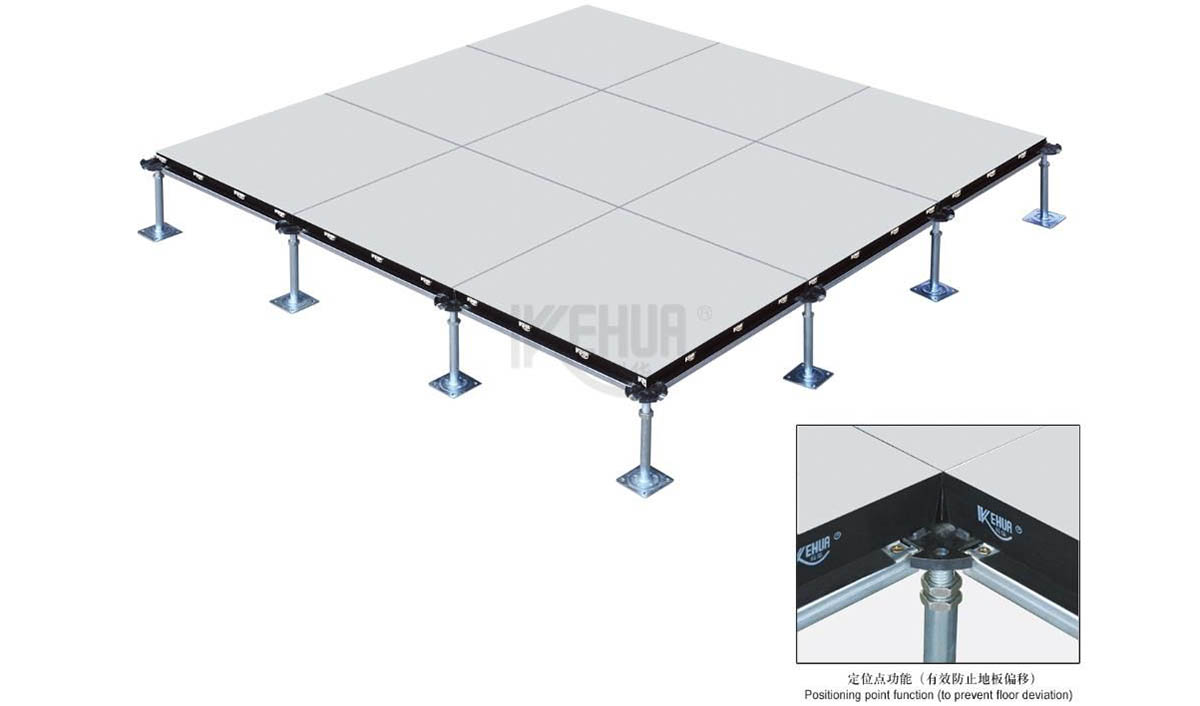 1. Anti-static: composite anti-static floor with resistance stability, durable characteristics.
2. Aollution resistance: the use of raw material formula can reduce the pore diameter, so that the stain will not go deep into the floor, to solve the problem of difficult to clean the ground.
3. No radiation: anti-static floor does not contain radioactive elements, healthy and safe and reliable, is a natural stone material.
4. Anti-aging: this kind of floor quality is good, high hardness, up to 7 degrees Mohs, the life of the use will be longer. 
It is suitable for all kinds of 5A intelligent buildings, 5A office buildings, all kinds of computer rooms and places with overhead requirements and network integrated wiring, and is more suitable for the ground reconstruction of the old office building integrated wiring.