OA600 High quality net work raised access floor
This raised floor is specially designed for easy cable layout in intelligent buildings. The outside of the raised floor is made of high-quality zinc cold steel sheet, the top and the bottom are both superiorly deep-stretching zinc cold steel sheet. Advanced spot welding technical structure is applied to the top and bottom of the raised floor, and in the middle is filled with lightweight cement of special ingredients developed by KEHUA. In this way, the finished products feature high loading capacity and durability. The surface of raised floor can be covered with various PVC or fabric carpets. To deal with the wiring problems caused by the growing pipelines in modern interlligent building, this panel can match with movable trunking to lay various types of pipelines so that the strong and weak current can be segregated. After laying on the floor, the trunking cover can be lifted off so that you can lay and maintain various types of pipelines and cables. Easy installation and maintaince.
OA600 network raised floor is made of high quality steel plate after tensile forming, welding and spraying. The back is made of 64 honeycomb spherical welding process. The inner cavity is filled with high strength foamed cement, with strong bearing capacity and high flatness.  
Bracket is zinc plated and cast aluminum alloy structure, which height is adjustable and can be self-locked, floor surrounded by forming a trimming and riveting two, due to the complexity of intelligent building wiring, the function is all ready, so the qualification excuse is various, OA600 network floor open groove is equipped with moulding, fixed installation Angle lock connection, is simple and easy of reliable, stable and leveling.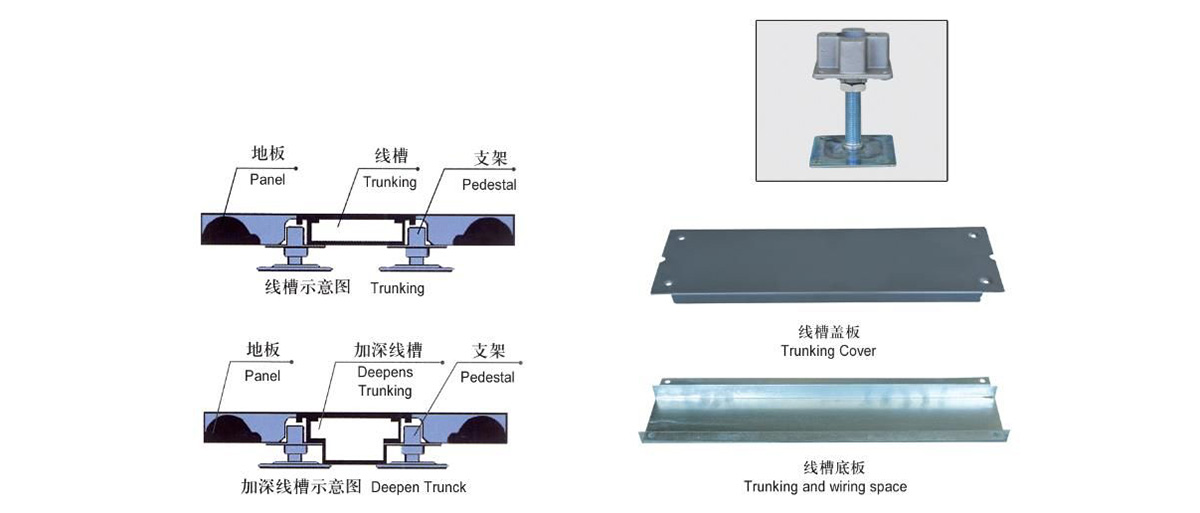 1. He can fire prevention, moisture-proof, dustproof, corrosion resistant.
2. Four corners to support a more stable, the bearing height adjustable, flexible assembly, wiring quantity is big, good compatibility, easy maintenance.
3. Low installation height, matching trough, trough plate can be installed between the outlet, casual, lower part space can be used for air conditioning and ventilation.
4. Can be combined with the surface laid carpet goods PVC magnetic floor mat, beautiful and elegant, decorative, comfortable feet.
5. To solve the original traditional process cement, floor tile, wood floor and other wires embedded, the long-term use of the line aging, short circuit accidents and other troubles.    
Due to the characteristics of the network floor, it has overcome the defects of the existing floor cable solutions, and it is well adapted to the requirements of fast network change, access port, writing floor height, anti-static, flame retardant. Therefore, it is very suitable for large office buildings, computer rooms, intelligent buildings, securities hall, government agencies, financial institutions, scientific research institutions, broadcasting centers, posts and telecommunications communications, communication sites, telecommunications teaching, advertising printing, conference centers, media production, commercial websites, electric transportation, etc. His application will certainly contribute to the further development of utuidong high-tech technology. 
This is 600 OA bare finish panel project in Malaysia. Total need 50000sqm.
Type

Specification

Concentrated Load(N)

Impact Load(N)

Ultimate Load(N)

Untimate Load(N/m2)

Dynamic Load(N)

Fire Protection

System resistance

International

National

LB

N

KG

10

10000

FS700

HDG(Q)

600x600x33

700

2950

318

550

8850

12500

2950

2255

A

FS800

HDG(P)

600x600x33

800

3560

363

670

10680

16000

3560

2950

A

FS1000

HDG(B)

600x600x33

1000

4450

453

670

13350 

23000

4450

3560

A

FS1250

HDG(Z)

600x600x33

1250

5560

567

670

16680

33000

5560

4450

A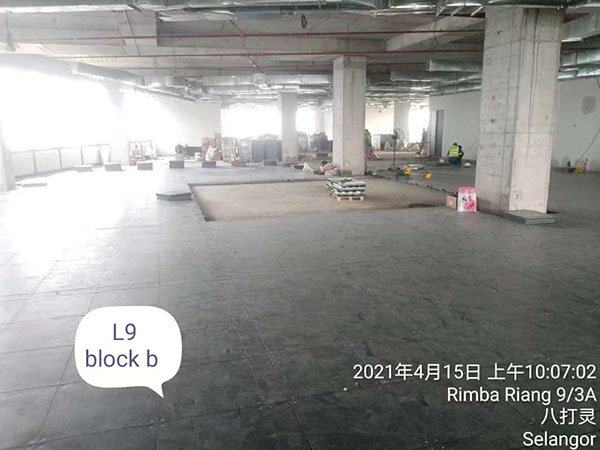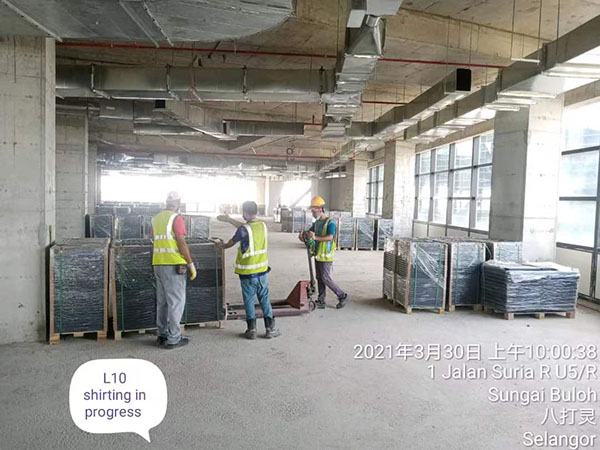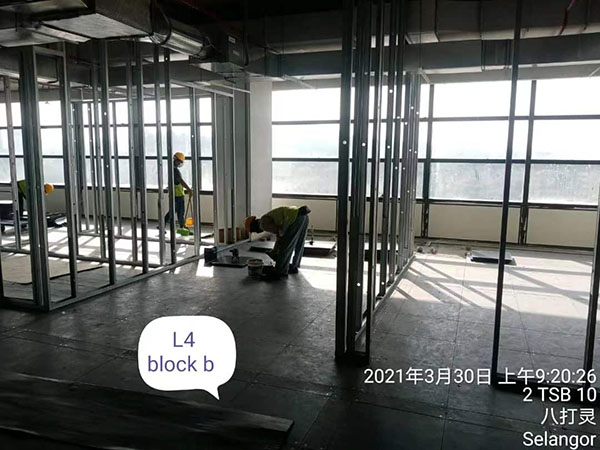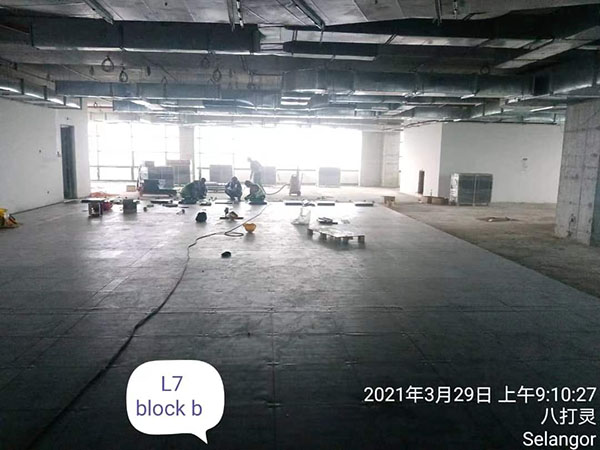 1. What are your prices?
Our prices are subject to change depending on supply and other market factors. We will send you an updated price list after your company contact 
us for further information.
2. Do you have a minimum order quantity?
Yes, we require all international orders to have an ongoing minimum order quantity. If you are looking to resell but in much smaller quantities, we recommend you check out our website.
3. What is the average lead time?
For samples, the lead time is about 10 days. For mass production, the lead time is 20-30 days after receiving the deposit payment. The lead times 
become effective when (1) we have received your deposit, and (2) we have your final approval for your products. If our lead times do not work with 
your deadline, please go over your requirements w
ith your sale. In all cases we will try to accommodate your needs. In most cases we are able to do so.
4. What kinds of payment methods do you accept?
You can make the payment to our bank account, 
30% deposit in advance, 70% balance against the copy of B/L. L/C can be agreed if special circumstance.